---
LPA Sunday Shopping v Triana v Las Palmas
7. 7. 2013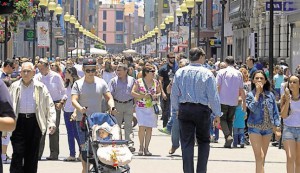 Las Palmas dnes zažívá Pátý ročník nedělního nakupování v Triana, který se termínově letos shoduje s prvním víkendem tradičních letních slev (rebajas).
Malí a střední prodejci se snaží využít příležitosti "shopping neděle" a motivovat občany jít do starého města a hlavně utrácet peníze. Uvedl to tento týden prezident kanárské konfederace malých a středních podniků (Cecapyme), Prudencio Lorenzo, který řekl, že je výborné, kdy začátek slevové kampaně připadne na neděli a nikoliv na pondělí. "Pondělí není nejlepší den pro obchod. Tím spíše ve stávající ekonomické situaci a navíc několik dní po začátku měsíce, kdy je daleko do výplaty".
Obchodníci mají velká očekávání, někteří snížili ceny až o 70%. Studie Federace nezávislých uživatelů a spotřebitelů (FUCI) oznámila minulý týden, že grancanarios vynaloží toto léto v slevové kampani v průněru 58 eur na osobu, na jiných ostrovech očekávají i 60 až 70 euro. To však není nic ve srovnání s léty ekonomického boomu, kdy například v roce 2007 utratili canarios 100 eur v průměru.

Komentáře
Přehled komentářů
---
---